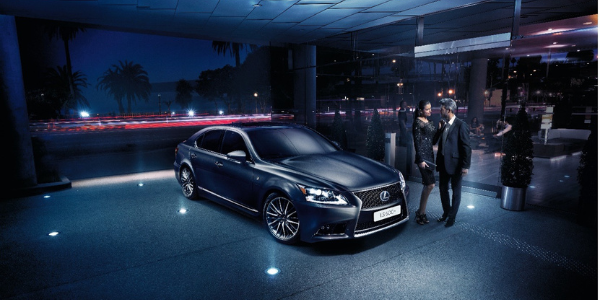 In automotive terms, the significance of the Lexus LS to the luxury vehicle markets cannot be overstated. The term 'turning point' is often overused in historiographies. But such was the impact of the arrival of Lexus and its spearhead and flagship LS 400 that the Luxury vehicle market was forever changed. Today, the new LS is the pinnacle of aspirational luxury motoring. The unparalleled luxury is crafted by artisans with meticulous attention to detail. And the drive, thrilling and visceral, is a product of engineering sophistication and visions of the future.
The Bold Endeavour of a Vehicle Manufacturing Giant
Toyota, Lexus' parent company, earned its motoring icon status by producing mainstream vehicles that offered reliability, economy, accessibility, and trust. In the early 80s, an idea for a luxury line of vehicles was conceived, and after much debate in the upper echelons, it was agreed that it would need to stand apart from Toyota, a luxury brand in its own right. The billion-dollar investment would compete head-on with the traditional home of luxury motoring. Lexus needed to offer something unique, something beyond special, and it would need to be unquestionably apparent in their first vehicle. The LS 400 would spearhead the venture, and to get it right, thorough research was critical.
The LS 400 - A Pragmatic Approach to Creating Luxury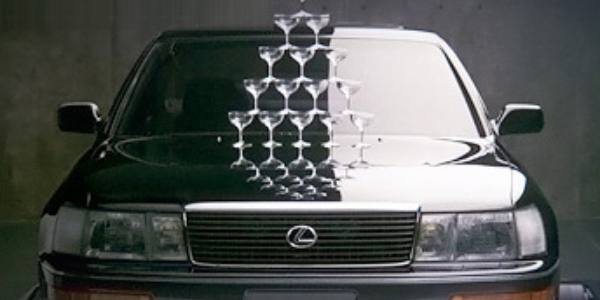 It's important to note that the LS 400 had the hopes of a new company riding on it. The ambition was to create the best car ever made. Goals were tabled with desirable performance figures of a top speed of 250 km/h, fuel consumption of 10.5 l/100 km, a noise limit of 60 decibels at 96 km/h, and a drag coefficient of 0.29. But it was the luxury appointments, and driver-vehicle relationship triggered astonishingly deep levels of research seven years before the LS debut. While many stories illustrate the depth and detail of early LS research, there are a few that truly highlight the length to which Lexus would go to understand the luxury vehicle driver. Researchers were tasked with adopting the lives of those to whom the LS would be marketed. By understanding their lifestyles, designers could translate their experience into vehicle appointments. A notable example of detail were the researchers who wore many shapes, styles, and lengths of false fingernails to understand how they interacted with different types of vehicle buttons, levers, and toggles. While this might seem a small thing relative to the design of an entire engine, this is the point – it was all about the smallest of details. The LS 400, was reimaging luxury motoring right down to the style, touch, and ergonomics of the buttons on the dash.
Generation One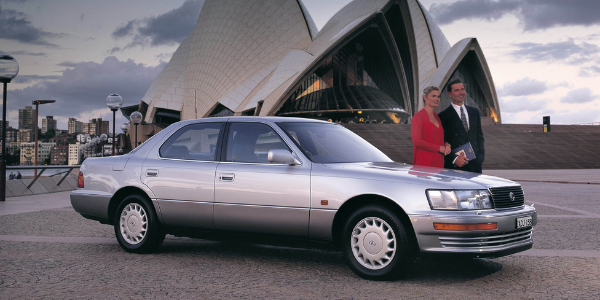 The LS was launched in May 1990 in Australia with Promotional photography by the opera house and promotional unveiling at the Melbourne Cup revealed the target demographic. It made strong connections with Australian icons, making it easy for Australians to connect the LS 400 with class and pedigree. Outwardly, the LS 400 had understated lines. It was elegant and poised, far removed from anything ostentatious falling out of favour. It had a top speed of 250 km/h (155 mph), a quieter cabin, meeting the ambitious requisites Lexus had set out in design. The LS 400 was built on an all-new chassis and had a 4.0-liter 32-valve V8 engine, capable of 190 kilowatts and 353-newton meters of torque. The engine was connected to a 4-speed electronically-controlled automatic gearbox. Notably, The LS 400 made 0–100 kilometres per hour in 8.5 seconds. Luxury inclusions were visual and tactile with walnut and leather trims and soft-touch controls. There were 300 technical innovations designed to reduce noise and vibration and increase driving comfort. The LS 400 firmly established its driver-focused philosophy with a memory system that stored the driver's seat, side mirror, steering wheel, and seat belt positions. The Japanese tradition of Omotenashi, or "giving" in service, was established impressively. In 2007, consumer groups noted that the LS 400 demonstrated excellent reliability, with vehicles lasting beyond 320,000km when maintained appropriately. Even without knowing its longevity, generation one sold over 165,000 units. In March 1990, the LS 400 was awarded the "Best Luxury Car" title in Motor Week's Drivers' Choice Awards.
Generation Two
Outwardly, there was little change to the lines of the LS. The wheelbase was slightly longer but overall, the same length. Braking was improved, and the suspension was upgraded to Skyhook adaptive computerized air suspension for better comfort and handling in variable conditions. 95 kg lighter, generation two got slightly better mileage and increased speed. Creature comforts included a new seat cushion, one of the first in-dash CD stackers, and dual-zone climate controls. Enlarged crumple zones increased safety ratings, as did the new collapsible steering column. High tech. was beginning to appear with GPS offered as an option. In 1997, power and torque were increased slightly, and a 5-speed auto gearbox was included. A new front facia, wheels, and side mirror were subtle changes yet had a relatively significant impact on the overall style.
Generation Three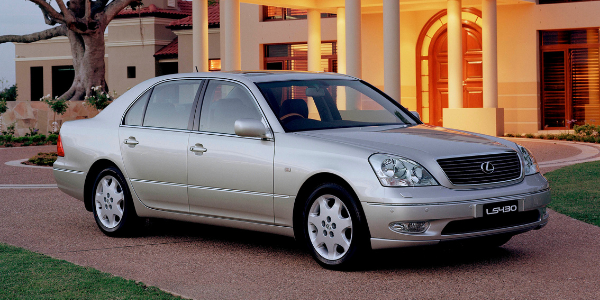 The LS 430 was now a 4.3 litre V8 achieving 0–100 km/h in 6.7 seconds. The ride was thrilling yet poised and disciplined, thanks to redesigned suspension, now with a double-wishbone setup at all four wheels. On the exterior, lines were still conservative yet distinct, with a new, more raked front facia and more shapely rear quarter panels. Interiors became more luxurious, with designs and inclusions based on famous luxury hotel appointments. Many variants were now available, allowing customers to refine their LS choice to a vehicle more suited to their lifestyles. A liquid crystal touch screen was now the interface for the GPS, signalling the beginning of digital technologies. Powered doors, boot lid, and sunshades increased touch operation, while heated seats with massage settings enhanced comfort and feel. With generation three came the Mark Levinson sound system, ensuring premium levels of cabin ambiance. Safety was enhanced with a water repellent windshield and side glass, supported by rain-sensing windshield wipers. Rear side curtain airbags offered greater protection for passengers in an accident, while electronic brakeforce distribution helped prevent accidents from occurring.
Generation Four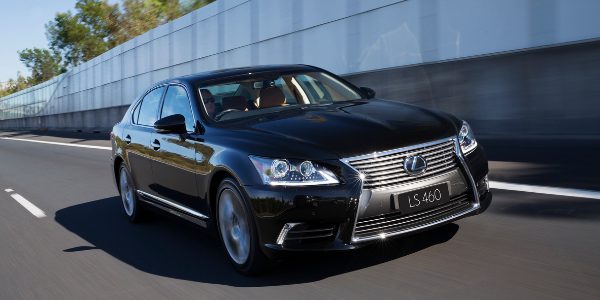 Over the 9 years of Generation 4, the LS witnessed an even greater focus on variant options. The LS 460 would be offered in petrol, petrol hybrid, rear wheel, and all-wheel drive variants. Sports editions and ultimate luxury editions delivered customers greater choice and flexibility. The LS 600h long-wheelbase featured a 5.0 litre V8 439 horsepower Lexus Hybrid Drive. Lexus took thrilling driving statistics to the next level with the new 8 speed automatic transition (eventually offering paddle shift in sports variants). Push-button start became standard, as did comfort appointments such as power 16-way and 12-way lumbar adjustment, seat heaters, leather upholstery, and premium sound. Outwardly, the lines were more notably raked, making way for the distinctive spindle grill that would completely alter the LS visage, adding a greater level of assertiveness and determination, more in keeping with the dynamic driving experience.
Generation Five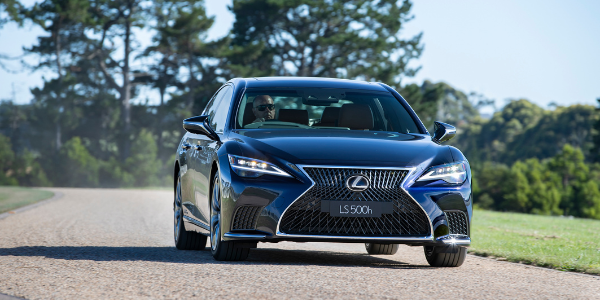 The contemporary styling of the LS 500 and LS 500h has now matured from its early mild-mannered lines and styling. Its outward appearance now directly broadcasts unrivalled confidence and street presence, with the new F-Sport variant presenting elevated levels of boldness and conviction. With an increasing carbon focus, gone is the V8 in favour of a V6, with sophisticated engineering ensuring a thrilling drive was not lost with the omission of 2 cylinders. The twin-turbo 3.5 litre engine produces 310 kW or 415 horsepower, delivered with impeccable, refined manners. The LS 500h Hybrid delivers 264 kW with a carbon-conscious 6.6 L/100km. Takumi Crafted Interiors resemble a work of art designed to satisfy all senses. Replete with all the benefits of Lexus Safety System 3, your LS now features low-light pedestrian and daytime cyclist detection and advanced road sign assist technology, making the LS more intuitive and responsive to the ever-changing demands of the drive. Coupled with the advanced connectivity and driver-focused technologies, you will feel like your LS knows you. With a simple command, your seat adjusts to your preferred position. A press of a button and you're connected to your digital preferences.
The LS 500h (Hybrid) starts at $208,917 drive away, the Sports Luxury Hybrid starts at $214,297 drive away and The LC 500 starts at $207,807 driveaway It's time to test drive the
LS 500
and LS 500h at
Lexus of Paramatta
and experience amazing.
Book online
or call us on 1300 584 013 to arrange a time. Be sure to ask us about the
Lexus Encore program
, which includes exclusive motoring and lifestyle benefits.