The First Ever All-Electric RZ
It's without question that Lexus craft extraordinary vehicles. In May 2023 Lexus released its first-ever All-Electric SUV, the RZ 405e, which marks a watershed moment in Lexus evolution.
Beautiful vehicles featuring luxury, performance, and technological innovation encompass the Lexus brand.
In 1989, the release of the LS 400 was a saliant moment in motoring – it was the debut model and an industry revelation. But over 30 years have passed since the LS 400. Lexus has now introduced their first dedicated all-electric RZ, and it's beyond breathtaking, leaving all superlatives in its wake.
Could the RZ be the definitive Lexus? Maybe. What is certain is that the RZ clearly defines the future of Lexus motoring, poised at the spearhead of its ambition to be all-electric by 2035.
Australian motorists have been waiting for a reason to go electric. Well…The reason is ready. The Lexus RZ 450e is available now and sets a new standard in luxury performance.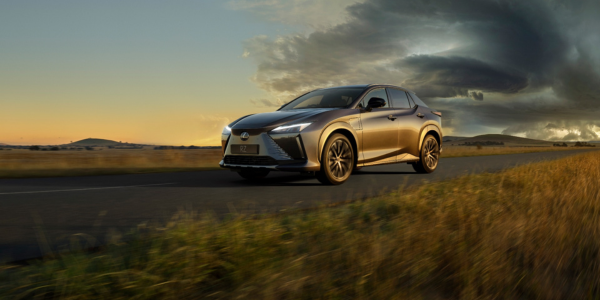 The RZ Aesthetic
The RZ has a unique presence, yet you won't need to see the badge to know it's a Lexus SUV. There's a bold determination on its face – an athlete with a goal. Its broad stance and height suggest a grounded temperament, sure-footed and nimble, with backstreet savvy. It can play the role of a suburban commute - modest and unassuming. But on the city streets or the driveway of a 5-star hotel, its Lexus sophistication is unmistakable.
Muscular curves combine with purposeful lines for understated elegance and precision. The elongated LED light bar across the width of the rear speaks of high tech, where bi-tone bodywork and 20-inch wheels (sports Luxury) confirm pedigree.
Advanced aerodynamics will be apparent to an educated eye. But it's never so boastful to reveal its complexity. It's a remarkable design achievement that succeeds at compelling a variety of discerning motorist tastes.
The Tazuna Cockpit
The RZ's Tazuna cockpit is human-centred, and driver focussed. The array of controls, led by the 14" touchscreen display, angle toward the driver for seamless and safe operation. The RZ dash and steering wheel house many systems and functions. But when you interface with the RZ, you're never distracted from the drive. Want to open the window? Just say "Hey Lexus, open the window." And Lexus knows who's talking.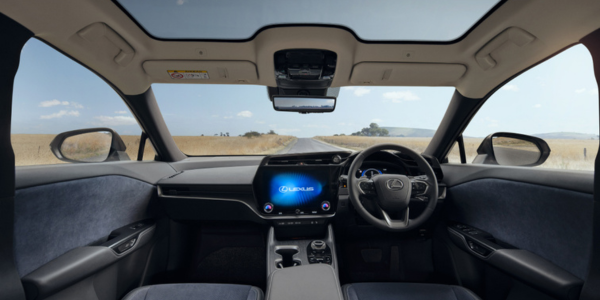 Lexus designers have combined the cockpit of a small spaceship with the opulent comfort of the master suite in a grand hotel. You're immersed as if part of the vehicle. Every commute is an elevated drive, and often thrilling, yet you're always relaxed, nestled in bespoke luxurious comfort, while the vigilant Lexus Safety System + supports you and your passengers. Full vehicle command is at your fingertips or a voice command.
Smart Entry and subtle interior illumination welcome you onboard. There's an inviting atmosphere inside that starts with the textures of NuLuxe door and seat trim, and steering wheel with sport-style paddle shifters. Heated front seats remove the chill of a winter's day while 10 speakers, including a subwoofer, underscore your commute. Wireless Apple CarPlay and Android Auto ensure you're always connected, while 5 USB-C ports and 4 12V sockets keep everybody charged.
Sports Luxury owners are treated to the sounds of a 13-Speaker Mark Levinson Audio System and a dimming panoramic sunroof with detachable sunshades. Beautiful Tsuyasumi ornamentation connects you to ancient Japanese tradition, with the Ultrasuede seat and door trim typify the luxurious comfort to which you've become uncustomed. The addition of Lexus' head up display adds yet another level of convenience and safety.
Rear seat passengers can create their own atmosphere with Dual-Zone Climate Control and rear vents. The rear seats are heated in the Sports Luxury, and with 10 SRS airbags, standard in both models, keep all passengers protected. Need to pack for a long weekend? There are 1,451 litres of packing space with the rear seats down, plenty of room for your ski gear.
The RZ aesthetic is sure to impress and amaze, but it's the performance specs that'll take your breath away.

RZ Performance
The RZ is Lexus' first battery electric vehicle platform. The 71.4kWh battery pack is mounted under the cabin lowering the centre of gravity for outstanding stability and handling. There's 470km available on a full charge, with a charge from low charge warning light taking 6.5 hours. Charging is programable to suite your schedule. Lexus offers RZ owners an 8 year / 160,000 km battery warranty demonstrating great confidence in battery endurance.
Two electric motors power the all-new Direct 4, AWD drive train. Combined they deliver 230 kW of power and an astonishing 435Nm of torque. That delivers sports car acceleration with zero to 100 km/h in a breathtaking 5.6 seconds. That's acceleration you feel as you're pressed back into your seat. Keep the peddle down and you'll hit a top speed of 160km/h – best left for the racetrack. With all that torque and power, there's 750kg braked towing capacity, more than enough to get your jet ski to the boat ramp.
Being all-electric, it's efficient, emission-free power. It's whisper quiet thanks to the absence of thousands of heavy combustion engine and gearbox components. With drive mode select you can choose eco, normal, sport and custom settings, to match your mood and conditions. Lexus steer by wire is planned for the RZ, and will soon be introduced, taking the driving experience to new technological levels.
The spacious RZ is beautifully proportioned. There's plenty of room for the family while offering convenience for navigating tight city streets and carparks. The RZ measures 4910mm long, 1895mm wide and 1635mm high. For comparison, it's very similar in size to the RX, a large SUV that measures less than 75mm longer than the RZ.
Owning a Lexus RZ450e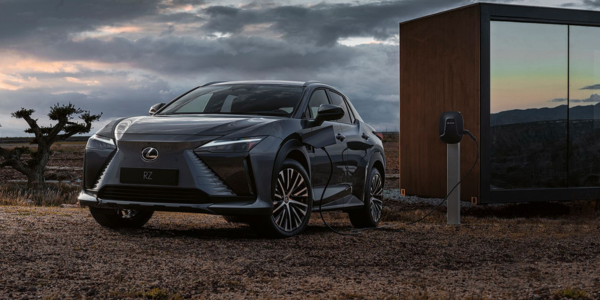 You can drive away a Luxury RZ for $133,440* with the Sports Luxury $146,040* drive away. With Lexus Finance you can take delivery of your RZ sooner, and there are plenty of benefits for RZ customers.
Your RZ purchase includes 3 years Encore Platinum membership with all of its lifestyle benefits. It also includes complimentary access to fast and ultra-rapid charging at selected Chargefox stations for the duration of your membership. You will also receive a complimentary charger, supplied and installed in your home.
Capped price servicing of $395 per interval is offered over five years, with service intervals every 12 months or 15,000 kilometres.
Lexus offers a 5-year unlimited kilometre warranty, with a battery warranty of 8-years, subject to an annual battery health check.
Through healthy batteries, Lexus and its customers directly contribute to a healthy planet. The RZ plays a critical role in Lexus Sustainability, and its goal to be carbon neutral by 2050.
Lexus of Parramatta Celebrates the arrival of the RZ 450e
Lexus of Parramatta invites all our customers and guests to celebrate the arrival of the RZ 450e by booking a test drive today. Request a test drive online or call the team on 02 9204 6520. Now's the time to become a part of Lexus history and embrace going all electric in your new RZ 450e. The reason is ready.
*Recommended drive away price (RDP) shown is based on a vehicle with selected optional features or metallic/premium paint, garaged at the postcode entered, and includes 12 months registration, 12 months compulsory third party insurance (CTP), maximum dealer delivery charge and stamp duty. Please note actual driveaway price may differ based on your delivery location, applicable statutory charges/taxes, and CTP requirements etc. in your state/territory. Lexus Australia reserves the right to vary or discontinue the current interior and exterior colours, trims and colour/trim/model combinations. Colours and trims displayed are a guide only and may vary from actual colours due to display process.