Evolution of the Lexus RX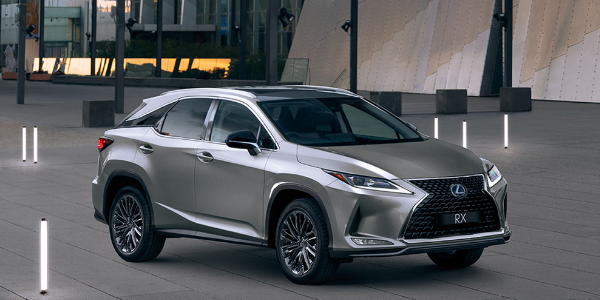 The Lexus "Recreational Crossover" or RX as we so fondly know it, has remained a ground-breaking SUV ever since Lexus began its global export in 1998. The RX was conceived via the results of insightful market research that demonstrated only 7 percent of those with off-road vehicles would ever use them off-road.
With off-road vehicles still so popular, yet a less than an optimal on-road driving experience, the RX would deliver the safety, comfort, and handling of an on-road driving experience with the SUV qualities motorists so desired.
The RX transcended standard vehicle classification, creating a brand new market segment from the outset. The RX was then and is now the genuine SUV crossover. It is whatever you want it to be, and it adapts to your lifestyle. The RX embodies Lexus's signature luxury, style, and sophistication. Yet through creativity, innovation, and advanced automotive technologies, Lexus designers achieved the perfect marriage of class and understated elegance to unbridled fun and the spirit of adventure.
Today, the Lexus RX continues to amaze and impress. The RX models for sale today are the result of a decades-long journey, with each of the 4 RX generations a realisation of tomorrow's luxury crossover experience.
The RX 300 Generation I (1998 - 2003)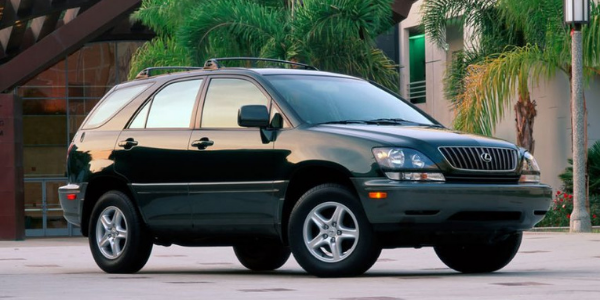 As the 1990s progressed, the motoring world was increasingly abuzz with anticipation as a new breed of luxury vehicles was emerging. Lexus launched its flagship LS 400 in 1989 which made headlines. Just 9 years following its successful debut, Lexus introduced the RX luxury crossover to an excited and receptive market.
Powered with a 3.0-litre V6 petrol engine, a spirited drive was assured with its 220 hp/301 Nm engine. A smooth 4-speed auto offered on-road feel with "snow mode," perfect for difficult conditions, delivering its SUV credentials.
Walnut wood trim was the visual establishment of luxury. The LCD screen signalled the beginning of a new age of driver/vehicle interface, with performance data, climate, and audio operations going digital and centralised.
For the adventurers, the rear flat-folding seats offered cargo versatility, with 3.68 cubic meters of space delivery plenty of room for camping kits and luggage.
Passenger front airbags, side torso airbags, and side-impact door beams headlined driver safety, with anti-lock brakes and daytime running lights bolstering accident mitigation. Electronic vehicle stability control was an option but would become standard when generation 1 was refreshed 2 years following its release.
The 2000 makeover was subtle, with head and tail lights earning more distinctive Lexus lines. A limited-edition was released in 2001 appealing to a more discerning luxury market, with a black perforated leather interior offering next-level sophistication. The first-generation RX would go on to sell over 370,000 units and win multiple awards including Money magazine's Best Deal on the Road in the SUV class in 1999.
Lexus RX Generation II (2003 to 2007)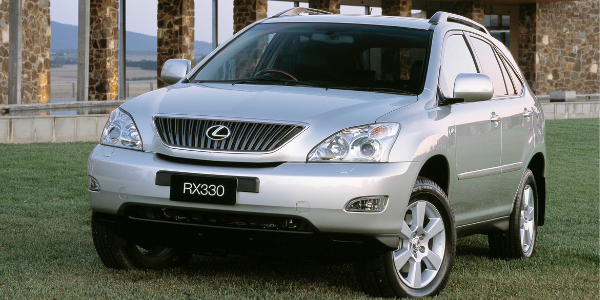 The Lexus RX gained in engine capacity, with the new 3.3 litre, 323 Nm petrol engine capable of towing up to 1500kg effortlessly and enhancing its SUV specifications. The RX 300 became the RX 330. A 5-speed automatic was added to the drive train, with customers having the option of front or all-wheel drive. On the outside, body lines were more curved giving the visual impression and performance of advanced aerodynamics. While a meaningful change from gen one, side by side comparisons reveal a very close aesthetic relationship to its older sibling.
Leather became standard, with the premium bucket seats heated and ventilated. The cabin comfort was now unmistakably Lexus with a clear focus on luxury that reached all of the senses. The cabin experience was enhanced with Bose sound as standard, however, the option for an 11-speakers Mark Levinson sound system would take the audio soundscapes to an all-new level.
Premium safety inclusions received increased focus. Gen 2 now had 8 airbags, tyre pressure monitoring, Dynamic Laser Cruise Control, and adaptive front lighting systems. The Lexus RX was demonstrating Lexus' push toward collision prevention. The addition of height-adjustable air suspension on the all-wheel-drive models offered safer road handling and versatility while off the tarmac.
Between 2006 and 2007, the RX 330 became the RX 350, owing to an increased engine size from 3.3 litre to 3.5 litre – more power yet better economy. Tech innovation was also increasing. Driver-focused features such as Lexus Generation V DVD navigation and voice-controlled destination functionality the realisation of a reimagined relationship between vehicle and driver.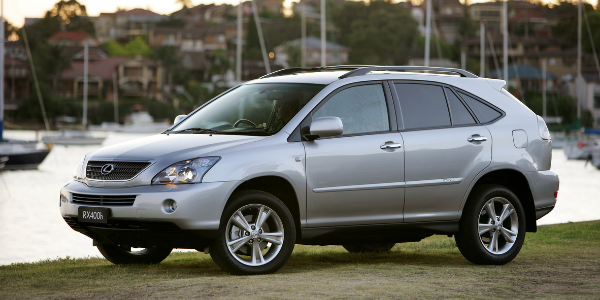 Of greatest importance to an increasingly carbon-conscious motoring community, was the release of the RX 400h. The new hybrid variant was officially the first hybrid SUV on the market. The new hybrid was a revelation, again winning a series of awards including Britain's 4x4 Manufacturer of the Year title. With the RX400h SUV luxury motoring was not only versatile but also ecologically sound.
Lexus RX Generation III (2008 to 2015)
By generation III, the thrill of the drive was enhanced with a new 6-speed sequential shift gearbox. The 205kW motor increased power while delivering better mileage on both highway and city driving. Comfort and handling improved with the replacement of the rear McPherson struts with double-wishbone suspension. This suspension change delivered not only better road manners, but also increased cargo space.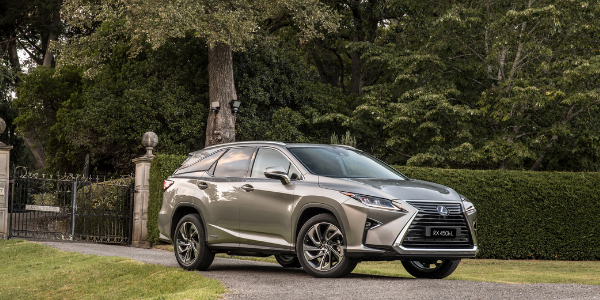 The RX 400h made way for the RX 450h. Now sharing the same V6 as the RX 350, the hybrid had made significant advances in the electric drive with a new inverter increasing total power to 221kW. Even though the power had increased substantially, the EPA confirmed fuel efficiency increases of up to 20%.
Attention to detail became a feature of the RX, with an amazing example of detail being the water-repellent glass used on the front doors to increase visibility in the rain. Standard features such as keyless entry and start system, electrochromic heated side mirrors, and UV reducing exterior glass, might appear subtle additions, but in reality, they were significant advances in driver security and vehicle accident prevention. With a full suite of airbags preventing injury, active headrests become standard to further enhance injury reduction in the event of an accident.
To this point, much of the innovation was in the drive train and driver-centred technology, a complete facelift, and aesthetic renewal was still a generation away. While LED head and tail lights proved distinctive, it was generation IV that took RX external lines in a new and bold direction.
Lexus RX Generation IV (2015 to Present)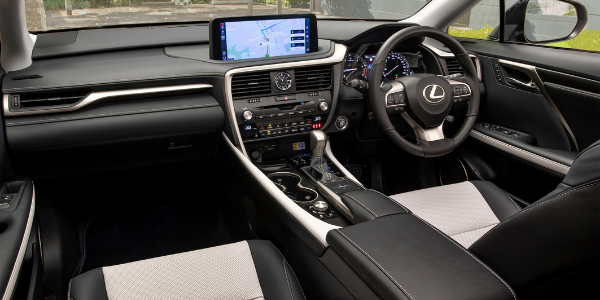 Generation IV revealed a new and exciting exterior design. Sharper, more angular lines sit impressively on a familiar shape. An aggressive visage shows compelling determination, with the spindle grill and squinting eyes (headlights) leaving you in no doubt the new RX is styled for attention, yet cleverly retained its understated classy demeanour. Under the bonnet, the feel is refined yet lively and spirited.
The RX 450h increased power to 230 kW yet reduced fuel consumption and carbon emissions even further. The 350 retained its 220kW engine, however, each variant received an 8-speed automatic gearbox. The new RX 300 offered the greatest thrill for the motorists focussed on the thrill of the drive. Luxury met speedy performance with the agile 2.0 litre engine's twin-scroll turbo minimising turbo lag for consistent, uniform acceleration through the revs.
In 2017, even further versatility was added to the RX line-up, with the launch of the RX350L. At just 110mm longer than its siblings, families could now seat everybody in Lexus luxury with the Power fold 3rd Row Seats, with slide adjustment.
It's now 2022, and the RX is available in RX 300, RX 350, RX 350L, RX 450h and RX 450hL. For the ultimate in luxury and refinement, the RX Crafted Edition offers you an RX experience like no other, with complementary benefits such as membership to Lexus's exclusive Encore Platinum Program and available in RX 300 and RX 350 variants.
The RX range starts from $82,325 drive away for the RX 300 Luxury. The RX 450h Hybrid Sports Luxury variant starts from $121,647 drive away for a thrilling drive in carbon-friendly opulence.
In the RX you can experience the luxury that revolves around you. Its luxury expanded, where everything you need is at your fingertips, while you're immersed in the exhilarating performance, tailored to you. Call the team at Lexus of Parramatta on 1300 584 013 to discover first-hand how a Lexus RX will adapt perfectly to your lifestyle.